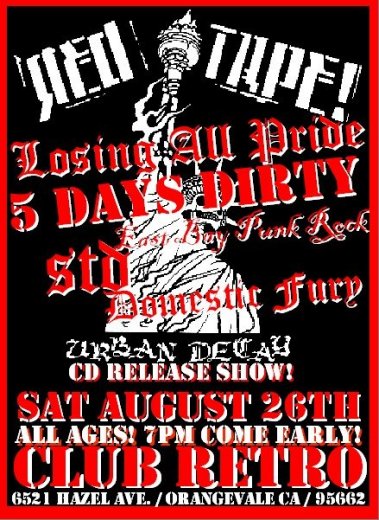 FROM THEPRP.COM: …Red Tape will be independently releasing a new EP entitled "Urban Decay" on August 01st, it will feature the following track listing:
01 – "Cook The Books"
02 – "Urban Decay"
03 – "Cutman"
04 – "Hotwired Soul"
05 – "Submariner"
For now, two tracks ("Cook The Books" and "Hotwired Soul") from it can be found HERE . Furthermore, the group have also booked the following shows:
July 28th S. Lake Tahoe, CA – Whiskey Dick's
July 29th Sacramento, CA – The Distillery (Feat. Intro5pect)
July 30th Bakersfield, CA – The Dome (Feat. Naked Aggression, The Havoc)
July 31st Fresno, CA – The Belmont (Feat. Set Your Goals, The Distance)
August 05th Arcadia, CA – Peanut's Sports Lounge
August 06th Moreno Valley, CA – Cheers
August 07th Hollywood, CA – Knitting Factory (Feat. Fight Everyone)
August 08th Las Vegas, NV – Cooler Lounge
August 10th San Bernardino, CA – The Club
August 11th San Diego, CA – The Static Lounge
August 12th San Diego, CA – Zombie Lounge
What up!
Everyone please check out two new tracks we've posted online *HERE*
"Urban Decay" and "Cook The Books" are part of a 5-song recording we did in February at Retrofit Recordings. The recording is still being mastered, and the band is still writing new songs… it won't be long before we're ready to record the full-length! Until then, enjoy the new tunes!
Check the SHOWS page for an update!
Check the SHOWS page because we added some new ones! Heading down to So Cal in Sept & will add some more dates to that trek -so keep checkin!
We still writing & jammin out the new songs -got a few down ("Urban Decay", "Art Monk", & "untitled") and we're picking up the pace on the rest. Should have some demo tracks to post in the next month or so.
We didn't forget about the DVD collection… we just keep getting new footage to add! We want include all the RT members over the years + our music videos, so that a lot of coverage to rummage through -thx for being patient on that bitches. 😉
Everyone like a cake fight? Sure you do. Click here for some cake madness and mayhem. We love a cake 😉
**Sponsor: To keep this site up and running for all our fans takes money. So are grateful to sponsors who help us achieve that. One of our sponsors is a company www.toptiercakes.co.uk. Visit their site and check out what they offer. If you need a cake for an event, they are always helpful.
'ight gotta go!
RIOT.